This post contain some affiliate links.

For the most part, we all shop on Amazon, right? I mean who doesn't? I don't remember thinking of wanting to purchase anything without checking Amazon first. I'm a huge fan, I will admit that. I love the excellent customer service, the ease of purchasing and returning if anything doesn't work out, and with Prime membership which I pay for a whopping $9.99/month, I get most of my orders in 2 days! Whoooptidoo!
I normally order at least 5x a month on Amazon so it's all worth it. Actually, I'd save more if I'm paying $99 annually for Prime membership.
That being said, I heard about Fulfillment by Amazon. Being the entrepreneur that I am, I always explore opportunities for additional revenue. My goal is to eventually develop multiple sources of income and I've just tapped into my third one so far!
A few months ago, I started exploring Fulfillment by Amazon. I joined several groups on Facebook and just learned by reading. I've always learned that way. But I am also a risk taker. So I once I get the gist of  the process, I jump in.
If you've shopped with Amazon before, you know that there are different sellers involved in that marketplace, although Amazon itself has their own products to sell. Anyone who is interested in selling on Amazon has to go through a registration and approval process. All you have to do is go to sellercentral.amazon.com, register, and apply for the categories that you wanted to sell in.
You can register as an individual seller for which you get charged $0.99 per item you sell plus a certain amount they charge on your product for which they call as "Referral Fee". I guess that's the fee for using their platform and driving their customers to your product.  If you prefer to pay a one time fee of $40/month + fulfillment costs, you can register as a professional seller.
So I started this back in May and slowly scaled the business up. Now, I must tell you that I'm only doing this as a side-hustle because I still have my blog and my Chic Life businesses. In only a couple of months, I started making $5K/month and by November/December, I started making anywhere from $15-17K with sales as high as $1K in one day! Pretty crazy, right?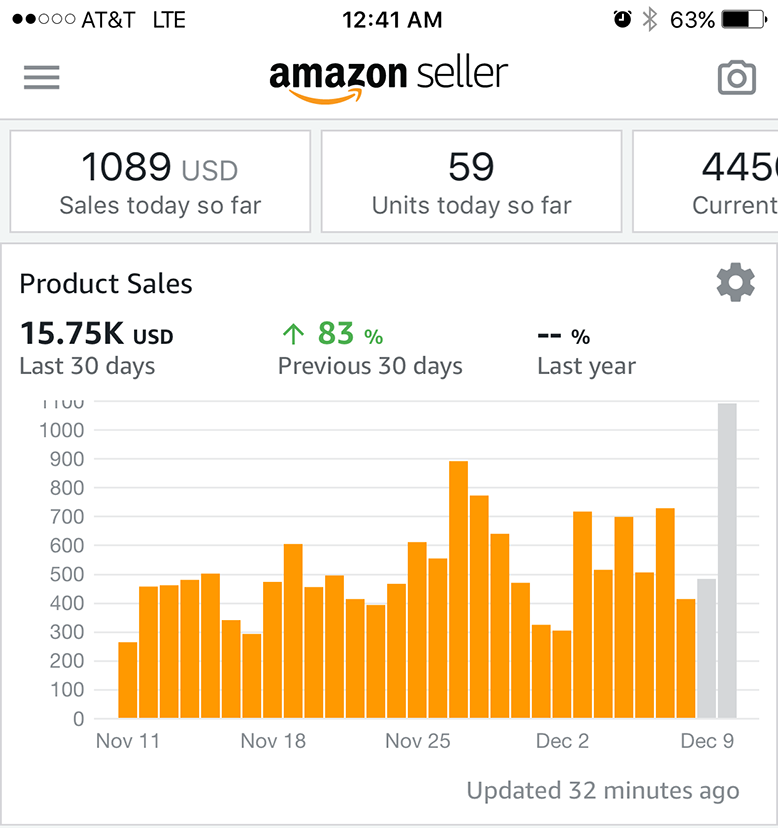 Now, let me just clarify that this business is DEFINITELY not a get-rich-quick scheme. Amazon has billions of users all over the world and has developed a platform/system that you can literally cash in on if you put in a little bit of research and leg work!
There's a learning curve involved, yes. But if I could learn it fairly easy, you can too!
So let's go back to Fulfillment by Amazon. Basically, it's a program that Amazon has for companies or individuals just like you and I who are interested in selling products. The way it works is that you send your merchandise and Amazon does the fulfillment for you and charges you a certain fee for doing so. But you don't have to worry about having to deal with the customers, the shipping, and all that kind of stuff. Although that is an option too called Merchant Fulfilled. But for the sake of this topic, let's stick with FBA.
What are the type of products you can sell on Amazon? The answer is anything! Okay maybe not drugs, violent or self-defense products and any hazardous materials. But you get the point. Now just a caveat: If you're thinking of selling some name brands such as Nike, Adidas, Under Armour, Tory Burch, Michael Kors and others, it might be a little more difficult especially with the $ requirements to get in. You also can't sell any used items. The place for those type of items is eBay or Facebook Marketplace.
This is where research comes in. You'd have to really sit down, do some research, explore some products that you personally buy, explore Amazon's best seller list.
Some people eventually developed or private labeled their own products and put it in the Amazon marketplace. Now to begin with, this is a little more risky because you'd have to research profitable products, marketability, suppliers, so on and so forth.
How do you get started selling on Amazon? The sign-up registration process is pretty simple. Like I said above, all you have to do is go to sellercentral.amazon.com to register. Once you've registered, you are able to download the Amazon Seller app from iTunes or Android Store which is what you will use to scan and find profitable products.
How do you find profitable products? I started by doing Retail Arbitrage. Retail Arbitrage is basically the act of finding "good deals" or clearance items from big box stores such as Walmart, Big Lots, Marshall's, etc. and reselling them for a profit. People do that all the time and it is completely legal. This is what people do on eBay as well. Now others do what is called Online Arbitrage which is similar to Retail Arbitrage but they find good deals online. I found my profitable products doing Retail Arbitrage but it has its limitations stock wise so I eventually moved to buying my inventory wholesale. By purchasing wholesale, I was able to order in bulk and I was able to scale up easily.
My goal is to eventually make $30/K month doing this part-time. Yes, part time! I am making almost $18K/month just doing this part time. By that I mean, all I have to do is put an order in with my wholesale company and they ship out my order directly to Amazon. Whenever I feel like going out and looking out for deals or find new products, then I would head out and actually do some leg work like I previously did. But these days, by being able to find profitable products, I am able to make money, literally even in my sleep.
There's quite a few areas here and there that's hard or too long to discuss on a single blog post. There are strategies, tools, and different ways to go about this. I know for some people, a course where everything is detailed out is the way to go. I highly recommend checking out Full Time FBA if this is something that you'd like to explore. Stephen who is the owner of Full Time FBA is an Amazon seller and is very experienced in this arena. His website offers both free and paid information and I do recommend that you look around his website and learn from him. I have personally watched some of his videos and I'm sure that his course is a great resource for the fraction of the cost other so-called gurus are offering.
SaveSave
SaveSaveSaveSave
SaveSave
SaveSave
SaveSave
SaveSave
SaveSave
SaveSave
SaveSaveSaveSaveSaveSaveSaveSaveSaveSaveSaveSave
SaveSaveSaveSave
SaveSave
SaveSave
SaveSave
SaveSave
SaveSave
SaveSave