Hers: Soshanna Dress via RentTheRunway.com (c/o) | Joan Oloff Shoes (c/o)| His: H&M Jacket | Trunk Club Jeans | Photography by: @photog_p
. . . . . . . . . . . . . . . . . . . . . . . . . . . . . . . . . . . . . . . . . . . . . . . . . . . . . . . . . . . . . . . . . . . . . . . . . .
He has made everything beautiful in its time. He has also set eternity in the human heart; yet no one can fathom what God has done from beginning to end. – Ecclesiastes 3:11
I'm so excited to finally share with you guys some photos from our engagement shoot back in August. We've had 3 outfit changes and this was actually the second one. I've showed you an Instagram sneak peek from another set a couple of weeks ago though and that set is coming up here on the blog as well. For outfit details, please see the links above.
I can't believe that our wedding is only 4 months away! I think I am almost done with most wedding planning stuff. My goal is to have everything done by the end of September so I can just relax and work on other things before the holiday craziness even begins.
As our wedding gets closer, I can't help but get amazed sometimes by how our love story unfolded. I do get the thoughts, every now and then, of "I can't believe I'm marrying my friend of 5 years." That was of course before we started dating last year. He's the only close male friend I have and one I called my "big bro" for several years, until God worked in both of our hearts. Anyway, I won't repeat our story here but if you missed it, read our engagement story here.
See, before we started dating…I never really thought that I would date a black guy. My fiancé (then friend) totally knew that. I'm not racist by any means. In fact, most of my friends in my inner circle are of black and african descent. But I, honestly, have never considered dating one. That's why when we announced that we're officially a couple, it came much of a HUGE surprise to everyone. Number one, because we're friends and number two, because my friends never thought I'd date a black man. I must be honest though, that I wouldn't have dated some random individual of another culture I just met.
Prior to this relationship with him, I was in a long-term 5-year relationship with a hispanic guy then was single for a few years. I guess I was really open to dating other cultures but have considered the hispanics more because my country (the Philippines) has been a Spanish colony for 333 years so we have a lot in common with them, including last names.
As we grow in our relationship and get to know each other more on a different level, I do not see any cultural difference. Now this may not apply to other inter-racial couples as some individuals getting in an inter-racial dating may have stronger affinity in practicing their cultures than I am. That's not to say, of course, that I have forgotten mine.
I've learned, that in any relationship, whether romantic or friendships, same culture or inter racial, there will always be differences: differences in personality and opinions, whether you're from the same country or not.
Bottomline is to make any relationship work, there will be times when both individuals involved have to compromise and/or agree to disagree on some things.
I've never read in studies or statistics that one of the causes of divorce is difference in culture. Never. It might have been but probably a very small portion that it's negligible. Really, it's an individual choice. Some may prefer to date or marry someone just within their culture. I just happen to be a bit more open-minded in this area.
My heart's desire has always been to marry someone who serves the same God as I am. As I got older and more matured, I believe that GOD has to be our common ground and strong foundation. The bonus part about marrying André is that we're serving in the same ministry at Lakewood Church and we're both core leaders in our choir.
I've shared with him how some things are in my culture and family and I am grateful that he's open-minded to adopting.
My advice if you're considering dating other cultures, is to know and evaluate yourself first: Do you have a strong affinity to your cultural practices? Will you impose your culture on him or will you be more open to accepting his and compromising?
André and I have established that we will have an open line of communication – being that safe place for each other to open up and say whatever is in our hearts, without being judged by the other. I wouldn't say that we've got this all perfected but we're working on it.
We have a lifetime to learn about each other and when the road gets difficult, we know that we can hold on to God, each other, and our families to keep going.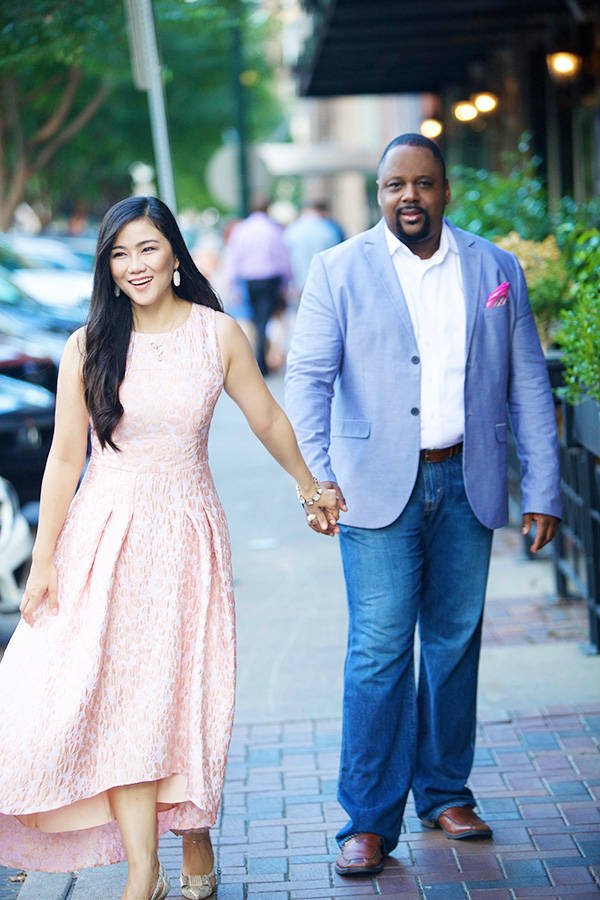 SaveSave
SaveSave
SaveSave