If Houston is known for anything (other than "Houston, we have a problem!"), it would be that we definitely have a ton of places that are good to dine! We're not only known for our Southern hospitality but we're also famous for our good food – from food trucks and casual restaurants to fine dining and bars and lounge, Houston will not disappoint!
If you're a local, then you're probably familiar with Royal Sonesta by the Galleria. But do you know that inside Royal Sonesta is Axis Lounge? It is a sleek and uncrowded spot for a happy hour with your friends. Its menu has recently been re-hauled by Executive Chef Robert Graham who previously served as the Executive Chef of the Ritz Carlton in Florida as well as private El Dorado Golf & Beach Club in San Jose Del Cabo, Mexico. Axis Lounge menu covered every palette from Chicken Liver Pate made with local honey and a Crispy Baguette to a bar favorite 44 Farms Sliders made with lettuce, tomato, pickle, american cheese and Axis's special sauce.
Although Axis has some full entreés from their menu, my husband and I had several of the mouth-watering, finger-licking small plates instead from the menu. I totally love the concept of small plates.
So here's what we had…
44 Farms BBQ Brisket and Mac and Cheese Nachos

These nachos made with 44 Farms BBQ brisket, drowned in mac and cheese, are the perfect combination with just the right amount of sweet BBQ sauce on the brisket paired with the savory scallions and cheese.
Charred Shishitos

This simple Asian-inspired dish is addicting. The simple ingredients mixed with charred and smokey finish on these peppers will leave you wanting for more.
Tuna Tartar

Chef Robert's use of cucumber is a refreshing addition to the Classic Tuna Tartar.
Tomato and Tapenade Grilled Ciabatta

The tomato and tapenade grilled ciabatta is a unique take on the classic balsamic bruschetta. Axis' olive spread brings life to this delicious appetizer.
Ricotta, Avocado, and Bacon Grilled Ciabatta

The Ricotta, Avocado, and Bacon Grilled Ciabatta turns the bruschetta world upside down, as does anything with bacon.
Gochujang Glazed Pork Ribs

Axis' Asian-inspired Gochujang Pork Ribs are deep-friend to add an excellent crisp to a culmination of Asian flavors that melt in your mouth. These ribs leave the plate faster than you'd think! This was definitely my favorite from Axis thus far.
Carnitas Pizzadilla

The Carnitas Pizzadilla is the love child of a carnitas topped-pizza and a quesadilla . This fused dish with ingredients including avocado, jalapeño, and cilantro is a MUST HAVE on this menu.
Lastly, a lounge is not a lounge without some great drinks! I ordered a mojito to start with and finished the night off with this sweet and delicious Le Dauphin.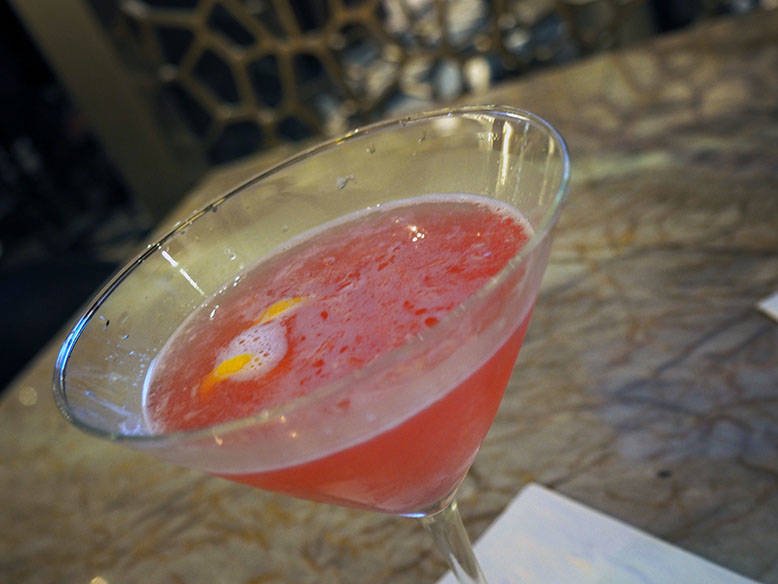 Axis Lounge is open daily from 12 PM till midnight. And just a friendly reminder: Don't drink and drive. Axis Lounge is conveniently located inside Royal Sonesta. Book a room and enjoy a wonderful stay in this contemporary and sophisticated hotel. After a relaxing time at the lounge, my husband and I spent the night at the hotel instead of driving back home.
If you're in Houston and haven't visited Axis Lounge yet, pencil this place in! It's also a great place for a date night.