You know how we women (well most of us) like to carry those huge purses and men often wonder why and what's in it? LOL.
Well, stuff I'm spilling what's in mine! Ssshhh…
Here are my daily essentials:
1. Johnson's Fresh & Smooth Face Powder
I'm not a big daily make-up person. I can go on all day without make-up and still feel happy and comfortable! I hardly ever put a lip gloss on…a little bit on the extreme simple side huh? (Wait, that statement was quite an oxymoron!) I only use Johnson's Fresh & Smooth Powder and the powder is white. Yes it is white, you read it right.
At a ladies' room one time, a lady saw me putting my powder on and I was asked what I was putting on. LOL. I said it's powder. I don't like those brown-colored compact powder which Johnson's has by the way. I just don't like seeing my tissue with brown stuff when I wipe my face with it, haha! I can be weird, I know! (I didn't take a picture of my actual powder because you can already see the pan, it's almost gone.)
What I like about Johnson's face powder is it's very light and not sticky at all.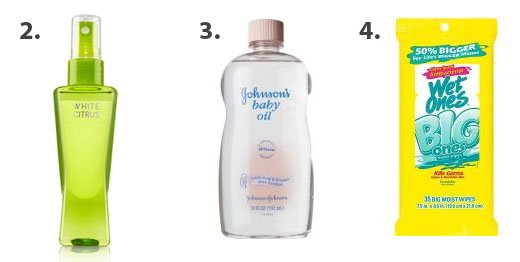 2. Bath and Body Works White Citrus Fragrance Mist
This keeps me feeling fresh and fragrant in the midst of a 3-digit Texas temperature!
I had the Sweet Pea before I had this and I loved them both.

3. Johnson's Baby Oil
I used to have a regular lotion to moisturize my hands. I have recently just achieved my goal of having baby-soft hands, yay!!! So I'm doing my best to maintain it that way. One day, I ran out of my travel-size lotion, saw the baby oil, grabbed it, and ever since, I've been using it. I might add Jergen's Shea Butter lotion for my hands to my daily essentials though as soon as I get a chance to grab them from the grocery store.
4. Wet Ones Big Ones  Antibacterial Wipes
I normally have my gigantic hand sanitizer in my car. However, I found myself being germophobic about shaking people's hands and I wonder why I never carry a travel-size hand sanitizer when I'm germophobic! So now I'm carrying these wipes. Woohoo!
Sorry to disappoint those big make-up junkies…I only have basic "freshen-up and go" thingies everyday.
Now on Sundays, it's a totally different story! It's the only day when I wear my make-up (aside from other occasions). I will have another post and put up a picture of what's in my Sunday purse!