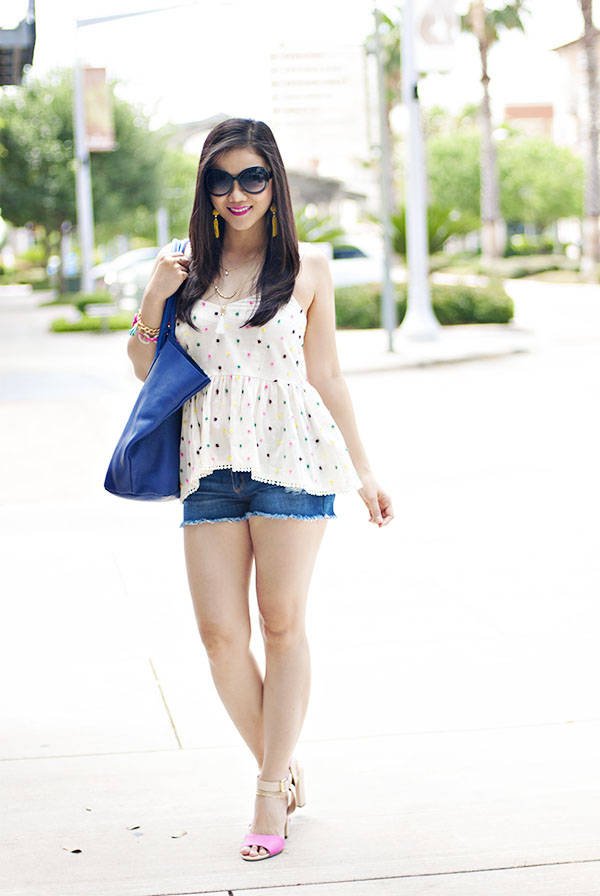 H&M Peplum Camisole Top | Distressed Denim Shorts (Mine is old but similar here, here, here, and here) | Charming Charlie Sunglasses | Charming Charlie Tassle Earrings | Charming Charlie Tassle Layered Necklace (Mine is not available online but here's something similar) | Chain Link Bracelet (Sold out but similar here and here) | Charming Charlie Colorblock Sandals | Armadio Fashion Tote Bag (All c/o)
. . . . . . . . . . . . . . . . . . . . . . . . . . . . . . . . . . . . . . . . . . . . . . . . . . . . . . . . . . . . . . . . . . . . . . . . . .
If you're following me on Instagram, you've probably seen this top already when I posted it a few days ago. The top is so darn cute with the pompom hem and pompom polka dots all over that I couldn't resist it the moment I saw it and that's not exaggeration either. Before buying sometime, I would look at it, think, look at it again, walk away, think, and then MAYBE come back for it eventually while I'm still at the store. But this one was love at first sight.
There were only a few pieces in the rack when I saw it and thankfully there's one on my size. It fits a little small so you might need to size up. I am normally a size 4 at H&M but I had to size up for this one. I guarantee you will love this! It's available online and it's looks great with a pair of denim shorts or skinny jeans.
I was even thinking of pairing it with white jeans but I have an outfit post coming up with that and you might have seen a sneak peek of that on Instagram. That's coming soon here. *Hint hint*
Anyway, other than this pompoms top, I think I've mentioned before that I've been really into the shades of blue lately and part of that includes having "blues" in my accessories as well so I got this Armadio tote bag in royal blue and love it! It's genuine leather and boy, do I just love the smell and feel of real leather! It's so far become my go-to daily tote. I especially love that Armadio supports artisans. Each bag comes directly from the workshops of the same artisans that craft for the big name fashion brands, direct to consumer model with no middlemen, luxury quality at up to 70% less than retail. It comes in three other colors: light blue, light pink, and black – all so pretty! Check them out.
Hope you like today's summery outfit and have a great weekend!