Blouse Similar via Amazon.com | Polka Dot Midi Skirt via Amazon.com | Bow Shoes via Amazon.com | Kate Spade Handbag (Not available online but check this, this and this) | Pearl Bib Necklace via Amazon.com (All c/o except Kate Spade handbag)
. . . . . . . . . . . . . . . . . . . . . . . . . . . . . . . . . . . . . . . . . . . . . . . . . . . . . . . . . . . . . . . . . . . . . . . . . .
I'm lovin' the pink and white and black color combination lately. Perhaps, I've got the Spring fever already. After months of wearing styles in jewel tones, I'm ready to have some pastels and bright colors again! The weather in Houston has been wonderful lately and I'm really enjoyin' it! I've been able to wear some sun and maxi dresses lately and I sure can't wait until Spring has fully come.
Spring means so many different things to people. For me, Spring is just a wonderful new season. Although I think I've developed a new allergy to it. If you remember, some time last year, around the third week of March, I had some crazy breakout of hives all over my body for almost a month and haven't been able to blog and go out anywhere because my face and arms were swollen. It was a nightmare but nevertheless, it's still my favorite season.
Now, Spring fashion is pretty simple. It's all about light colors and light materials. Not to mention sandals and hats of course.
By the way, how do you like this bold polka dot midi skirt that I'm wearing here? I thought a couple of years ago that midi skirts is just another trend that came back and might not stay for awhile. But I realized that mdoest fashion is always there in the background. It might not get the same highlight as the other revealing clothes out there in the market but there are still women like me (and you!) who love to dress modestly, don't you think?
How do you like today's outfit? Oh by the way, a group of bloggers and I have teamed up once again to bring you another giveaway! We do this once a month and give you a fabulous prize you can't resist! This time we're giving away another iMac and a set of Kate Spade bag and wallet. Scroll below to enter!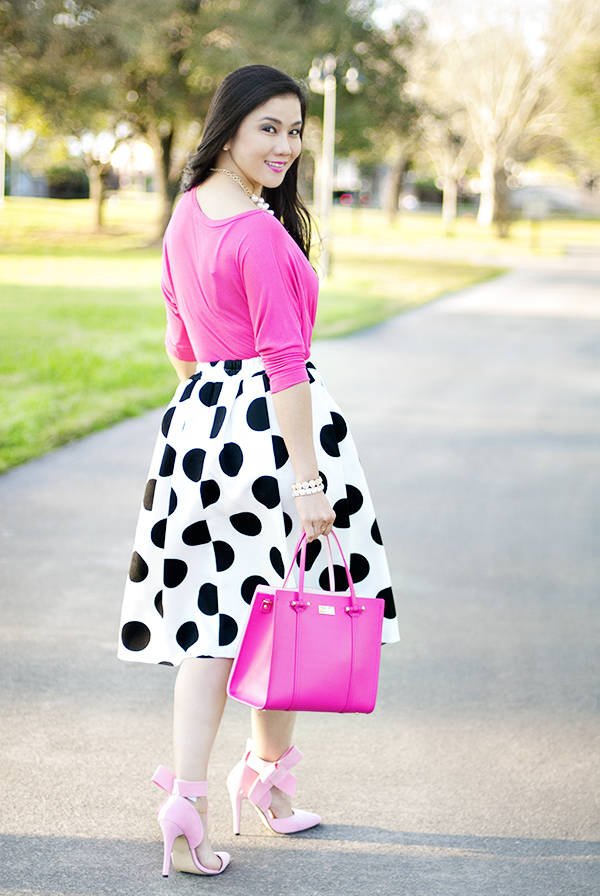 SaveSave