As promised, for sale here's the photo journal of our second destination called Tagaytay. Photos were taken with my very cool Sony NEX5R, courtesy of Sony! We headed to Tagaytay the following day when we got back from Bohol. Man, we were on the roll. WIth only a few hours sleep, off we went road tripping. If you missed my first photo journal, click here.
THE CITY: Tagaytay
Tagaytay is a city within the province of Cavite and is within driving distance from the Philippines' capital, Manila. I believe it's about 2 hours drive without traffic (which is rare). Honestly, we got stuck in traffic for more than an hour. Bumper to bumper traffic is a normal occurrence in Manila anyways.
This is one of the most popular destinations because it overlooks the smallest and most active volcano in the Philippines called Taal Volcano. The Volcano (which you will see in one of the photos in our final destination) sits in the lake and is the popular sight in town.
The first thing we did as soon as we got to Tagaytay was eat breakfast at Breakfast at Antonio's which is another popular place for breakfast. The food was delicious but too bad I didn't get to take a picture of it. After that, we stopped by the Flower Farm. Which girl would not enjoy seeing so many flowers? I know I truly enjoyed the sight of the different flowers I've seen. Unfortunately, I don't know the names of each so you're just going to have to enjoy them without the names, haha. Although I'm assuming that some of them were daisies.
If you're following me on Instagram, you've probably seen a photo of a miniature pineapple I posted while I was there. This was it! It's about the size of a thumb. Pretty amusing!
FINAL DESTINATION: Tagaytay Highlands

Tagaytay Highlands is an exclusive members-only community where some of the most popular celebrities and politicians own a property. Thankfully, my aunt is a member, thus she is our access to this amazingly beautiful place. We've been here about 12 years ago, when we last visited the Philippines. It was pretty new then. I was kinda bummed that the cable car wasn't working when we were there but there were a lot of other nice little cozy places here and there and other things to do such as spa. My sister-in-law, my aunt, and my friend ended up just getting a really good massage after lunch. The place overlooks the beautiful Taal lake and volcano. Here are just some of the beautiful spots within the community…
SECOND TRIP STOP OVER: Sonia's Garden

My mom and I were the last ones to leave the Philippines. We had to stay for a few more days to finish some business. Since we had a free day and my aunt needed to go back to Cavite, we decided to go back to Tagaytay Highlands. Before we headed there though, we made a stop at Sonya's Garden, a very popular bed and breakfast and restaurant for a very delicious Italian buffet…YUM!!! The salad was freshly picked from Sonya's own garden of vegetables! Unfortunately, once again, I didn't take a picture of the food. I guess because although I'd like to eat, I am not necessarily a foodie. Ha! So here's a few pics from Sonya's garden. It's a very cozy and serene place.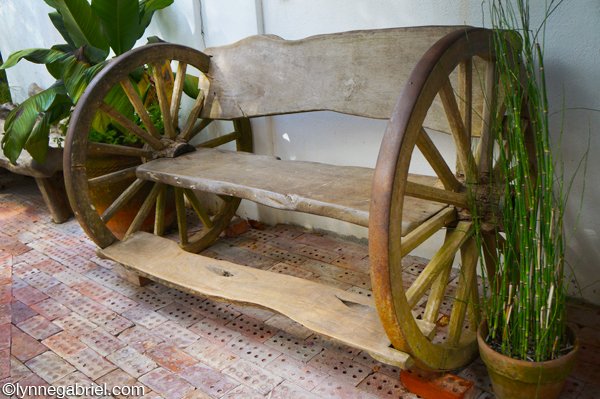 A LITTLE EXTRA…
I'm really not obsessed with pineapples but I must admit these pineapples are the sweetest most awesome pineapples out there! We made a quick stop at my aunt's property. She's renting it to some farmers planting pineapples. Just thought I'd snap a pic!
Hope you enjoyed this photo journal. Stay tuned for the photo journal of destination 3!