French Connection Reversible Faux Fur Vest | BP Long Sleeve Turtle Neck Tee | Agaci White Jeans (Similar Here) | Henri Bendel Carryall (Check out this similar style but with fall colors here) | Birthday Gifted Long Gold Necklace (Similar Here) | Earrings (Sold out but similar here) GUESS Cuff Bangle | Ray-Ban Sunglasses | RELLA Beanie Hat and Gloves | Shoe Dazzle Open Toe Heels (Sold out but similar here and here)
. . . . . . . . . . . . . . . . . . . . . . . . . . . . . . . . . . . . . . . . . . . . . . . . . . . . . . . . . . . . . . . . . . . . . . . . . .
Happy Friday Guys! We made it to the weekend again, woohooo! I don't know about you but I really need some 48 hours to forever downtime. I've been practically running on 4-5 hour sleep the past week or so and I feel that my body is drained of energy. I'm in the final stretches (I think!) of putting together the elements of our wedding. Once that's done, I can take a little breather. Who knew that takes so much time and energy?
Anyway, the pieces of this outfit are a little contradicting to each other. Faux fur vest, beanie hat, turtle neck, and then open-toe sandals? Well, that's kinda what Houston fall weather has been since it started. We have about an hour of fall in the morning and another hour at night when it's safe to wear a light sweater or so and then in the middle of the day, it's back to 90 degrees. It's quite confusing to say the least…I be like "Weather, make up your mind, yeah?!" Wearing this outfit though at least makes me feel like I'm in New York!
But truth be told, I'm not in a hurry to have cold weather! I am still savoring the warmer days before it gets gloomy, windy, and cold. Although Houston might still have about a couple more months of this conflicting weather, it doesn't hurt to stock up on some winter accessories already. I'm sure you New Yorkers and such already have these time of winter items in your closet. We, Houstonians, normally don't. But like I said, owning a few doesn't hurt and RELLA is definitely right up there when it comes to luxury cozies. You will never be disappointed with the quality of their products. If you have plans of traveling this coming winter, I do suggest checking out RELLA for your winter accessory needs. The beanie and the gloves I got have such pretty details! The blush color of my set is also super cute. Perfect as winter pastels. These beanie and gloves also come in cream I believe.
Oh and speaking of winter items, this French Connection Reversible Faux Fur Vest is on sale for 40% OFF. I got it for $180 and now it's only $99.99! This will look great with either the blush RELLA cozies or cream.
PS: Please pardon my corny title. Every now and then I find myself loss with title ideas. Ha!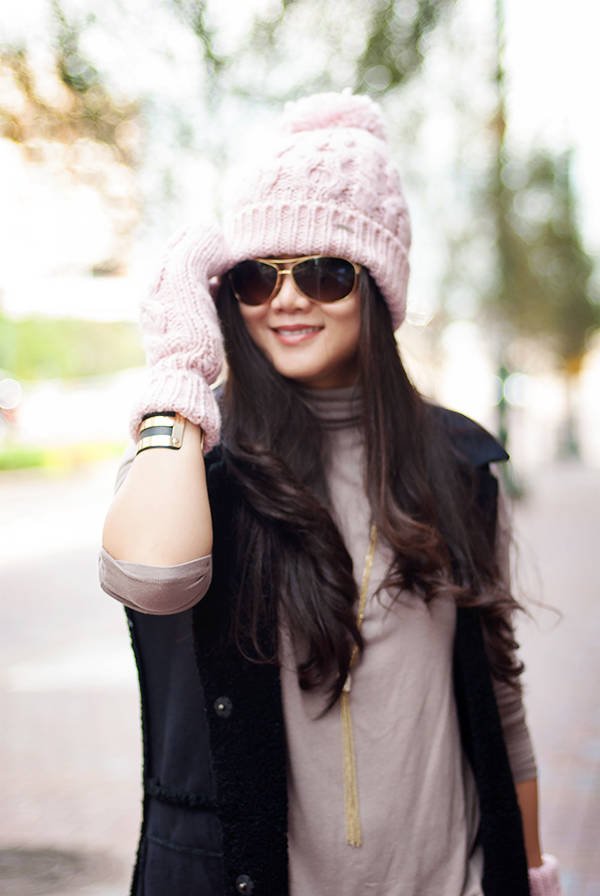 …………………………………………………………………………………………………………………………………………….
Disclaimer: This post is sponsored by RELLA. The opinions expressed herein are mine and are not indicative of the opinions or positions of RELLA. Thank you for supporting LynneGabriel.com sponsors. They make my blog possible!