The month of September started absolutely amazing for me! It kicked off with the glamorous Simon Fashion Now™ presented by Cadillac event at the Houston Galleria. Houston Area Cadillac Dealers once again loaned me a Cadillac XTS for a week so that I could arrive at the show Cadillac style! I was absolutely thrilled to be driving the XTS, stuff the third model from the company that I have driven so far – the first one being the CTS back in April and the second was the SRX the week prior to the show.
I think there is quite a misconception about Cadillac these days. My mom and I went to a small store during the week I had the XTS. The owner of the store came out and blurted "I think you're too young to be driving a Cadillac." A church mate also mentioned one time that when she hears Cadillac, she thinks of the older models like Seville. Contrary to those misconceptions, the company has gone so far advanced with their state of the art vehicles relevant to this generation!
Well, I have previously mentioned that I really don't know much about cars (ummm which woman does?) therefore I really can't give a very detailed review of the car. All I know was that XTS is definitely a state of the art vehicle. It had a lot of security features that it's almost impossible to get into an accident. If a car gets too close to you or vice versa, whatever side it is in, the mirror on that side will have two blinking car icons. If you get too close to a car in front of you, the car literally freaks out before you do! It will have some kind of red "POW" speech bubble type of thing flash on your dashboard. Of course, it also had sensors when parking and backing up. The CUE (Cadillac User Experience) gives you the ability to control a lot of things on the vehicle, including music and on-star navigation – the CUE on XTS was a touch-screen, pretty amazingly cool! The car is very spacious inside, I can definitely fit in my shoes and clothes when doing a photo shoot and hop in the back to change clothes. Overall, even though I never really got to explore the other features, I love the smooth side that Cadillac offers!
On another note, today's post should have been titled Luxury Meets Affordable – Affordable fashion brought to you by DOTS and JustFab and luxurious experience brought to you by Cadillac!

OUTFIT RECAP:(All c/o except jewelries) DOTS Dress | DOTS Clutch Bag | JustFab Platform Pumps | Non-branded Earrings and Cuff Bracelet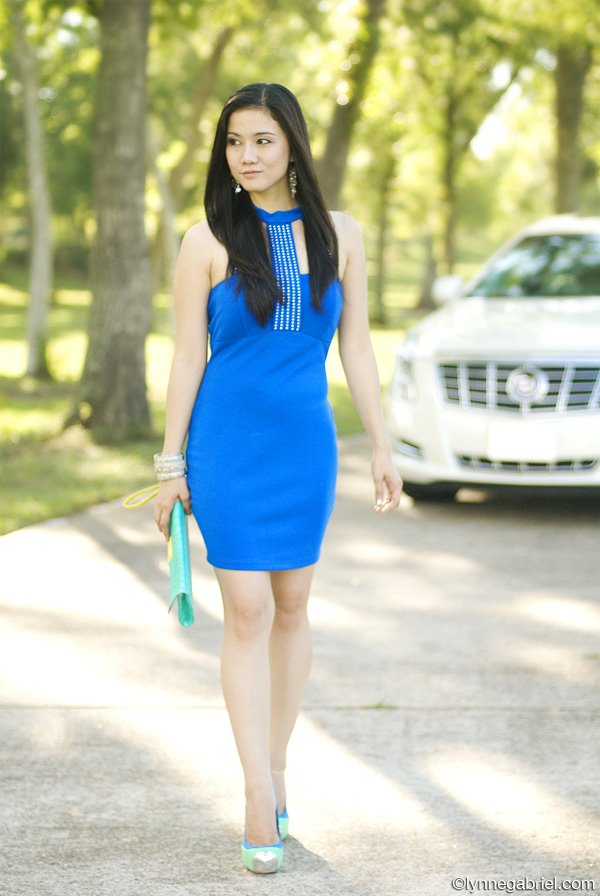 A Glimpse of the Interior…