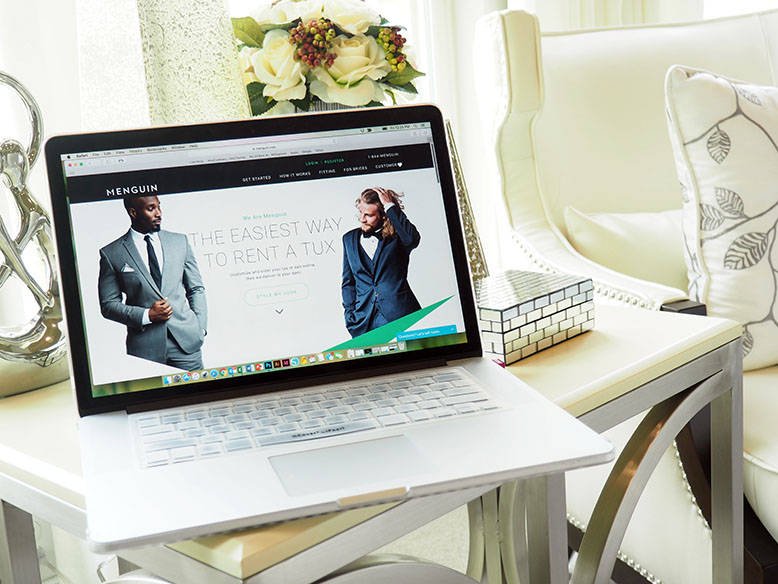 June is just right around the corner…and so is summer – the season for weddings in full swing! I am not a bride-to-be (as of yet) but I can imagine that there's a lot of work and pressure that goes into preparing one. From the venue to the food, decorations, the bridesmaids dresses and the groomsmen tux, not to mention your own bridal gown as well as your groom's tux. There are gazillion things to do, so many choices and decisions to make to make your special day a perfect one.
I've heard that men don't usually get involved in a lot of preparation which puts a lot of stress on the bride. I assume, finding a tux-rental place includes that responsibility.
Thanks to the internet some things are made easy these days…and thanks to Menguin, tux-renting is made easy! At least now I know where to get my groom's and his groomsmen's tuxedos when that time comes.
The website has user-friendly interface that walks you through the process of finding the best tux for you – from the style that you like and customizing it which includes finding the right accessories to go with it: bow tie, vest, pocket square, suspenders and shoes!
Here's How It Works

And Here's What You Get

Once you place your order, Menguin sends your tux and all the bells and whistles in the mail. I can't believe that everything can fit in such a box but they manage to put everything neatly in a hanger and suit cover!
They use an algorithm that cross-reference your size profile to about 22 million data points and if for whatever reason, they didn't get it right, you can return it back asap and they will fix it for you asap since they send your rental to you 10-12 days in advance of your event.
Once you're done with it, all you have to do is just put all the items back in the box, put the return label and send it back. No need to even dry clean the tux. Menguin will do all of that for you.
Honestly ladies, it's such a breeze. You can let your man handle this part for real! If they can browse Facebook and Google stuff, they sure can take care of finding their tux through Menguin! Besides, nothing rewarding like them creating their own style and seeing it in person and wearing it too!
Take a little pressure off of you ladies and have your man and his groomsmen go to www.menguin.com to style their tux. Rentals start at $89. That's very affordable!
…………………………………………………………………………………………………………………………………………….
Disclaimer: This post is sponsored by Menguin. The opinions expressed herein are mine and are not indicative of the opinions or positions of Menguin. Thank you for supporting LynneGabriel.com sponsors. They make my blog possible!