Houston is such a historical city and its Downtown houses some of its historical architectures, for sale including Hotel Icon, which I had the pleasure of staying for a post-birthday staycation last February 7. I've always loved this part of Downtown which you will often see as the location of my photoshoots.
According to Hotel Icon's website, it was built in 1911 to house of one of the state's most prominent financial institutions at the time, the Union National Bank. It was restored and transformed into Hotel Icon in 2004 and was renovated in 2012.
I love the red accents on the first floor of the exterior and this building actually gives this part of Downtown so much personality. I hope Hotel Icon stays in this corner forever because this street isn't just going to be the same without it.
The grand entrance to the lobby of the hotel.
The front desk area. There seems to be a huge vault in the background. I'm sure it's just a decoration! And if it's not, I wonder if there is Yamashita treasure there…*wink* The front desk people were very friendly. I only had a couple of questions about parking and never really had any issues that I need resolved.
The tall and huge Corinthian columns made me feel like a dwarf but I love their lobby which is actually part lobby and part restaurant called Line & Lariat. Unfortunately, I didn't get to try any of the restaurant's menu because the same night I was out with some friends for my post-birthday dinner (another post coming up) and they had an event happening there as well. We hung out in the lobby though until 2 in the morning after dinner and show and played XOXO in one of the corners where they had that board. I love the red chairs which is obviously the Hotel's color. I wish I had taken photos of the doors of the rooms because they are also in red.
The hotel had wonderful traditional interiors that fit exactly the hotel's history and personality.
These are the elevators. As you can see, they looked very "historical." I must admit, the vibe it gives kinda freaked me out, I felt like all of a sudden, I'm stepping in a haunted house. Obviously, that's just my imagination and I was able to handle it alright. After all, I am a big girl! The elevators are key-activated – meaning, you will need your hotel room to activate the elevators to get to your floor. It is a great security feature to prevent burglars from breaking into your rooms.
Still part of the elevator area.
The inside of the elevator which made me a bit more freaked out than I already was, ha! I know it's all psychological but I guess it's the thought that the hotel is old.
This was my crib for a night! The bed is spacious for one person but it gives enough room for two people. The linens were soft and luscious! The room has two huge windows but I didn't open the curtains anymore since my view was the wall of another building next to the hotel. I only had a little view of the street. I was a bit surprised with the color scheme of the room which was turquoise, orange, and brown -a bit far from the red accents in the majority of the areas of the hotel. But no complains, the colors are easy on the eyes and they work well. There were some odd pictures of bulls or longhorns on the wall which I really didn't notice but a friend of mine did and wondered why they chose to put such artwork. I guess to add a Texas touch to it? The room furnitures seem to have a modern touch to it though, unlike the traditional furnitures in the lobby. You may notice that there is a huge desk next to the bed. If you're a workaholic like me, this is a wonderful thing to have in a hotel room – a spacious work area for your laptop and what nots.
Each room has a small sitting area which is great if you have a couple of friends who would like to hang out for a bit. A couple of my friends who joined me for dinner and a show at a nearby bar stopped by to check out the room and we chatted here for awhile. They have a Keurig coffee maker which is great! Although there is a nearby coffee shop, literally a few steps from the hotel, it's always great when you have a Keurig readily available in your hotel room!
The bathroom is huge! It has a separate bath tub and shower area. It's got a really nice combination of colors, textures, and prints. It's like an art deco room!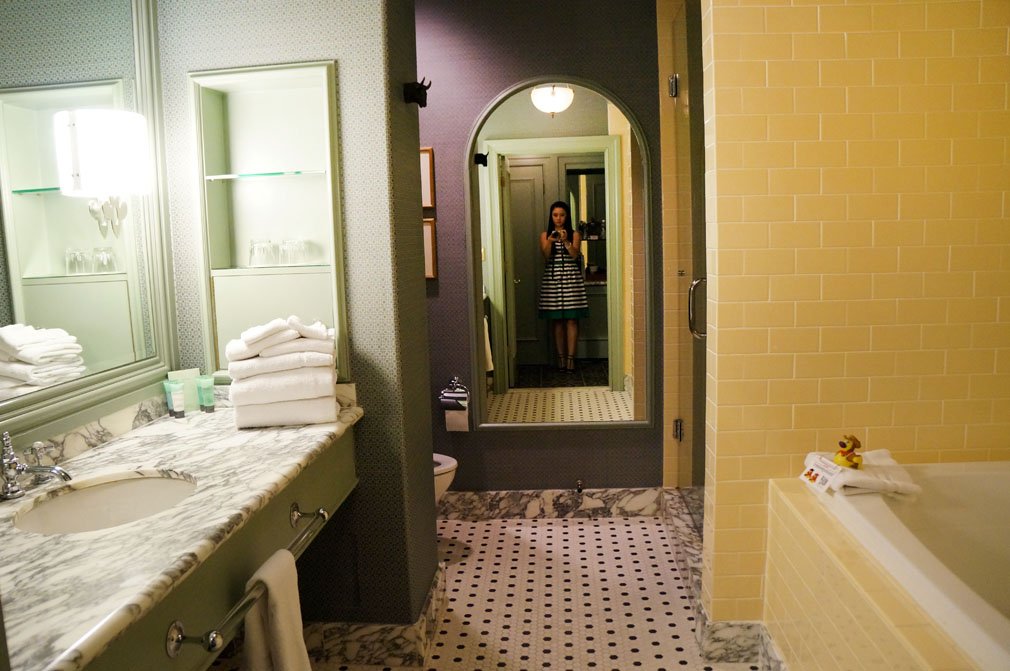 This is the area where the hotel is located – corner of Main St. and Congress St. This area has boomed in the past couple of years. There's the Honeymoon Coffee and Bar in the corner and next to it on both sides are lots of restaurants and bars. The area gets crowded with tons of bar-goers after 7 PM, especially on a weekend.
Do you recognize this spot? I'm sure that you've seen this so many times in several of my outfits throughout the years. This strip is full of restaurants and bars. This is my most favorite part of Downtown and it's literally a few steps from Hotel Icon. You will never run out of night life when you're staying at Hotel Icon. Of course, there are also attractions that are nearby such as the Theatre District, The Downtown Aquarium, and many more.
The Hotel is also a few steps away from the METROrail light rail line with service to the Museum District, the Children's Zoo, Rice University, Hermann Park, the Texas Medical Center and the Reliant Center convention facility and sports complex.
Hotel Icon provides a luxury car service to destinations in Downtown – a Mercedes Sprinter! Unfortunately, I didn't get to utilize this service since my friend picked us up from the hotel to Prohibition Supper Club and Bar where we had dinner and watched a show.
Because the hotel is in Downtown, the only difficulty I encountered was the parking. The valet rate is pretty steep at $29/night I believe. The service is a contractor and is not directly provided by the hotel. There are several lot areas and parking garages available in the area though which range from anywhere between $10-20 overnight. There are also parking meters which are free from 6 PM until 7 AM. Most parking garages don't have in and out privileges. I parked at a parking meter a couple of blocks away from Hotel Icon but I moved it around 2 AM closer to the hotel when most parking meters are already available because bar goers have already left and had to put in money in the meter early morning.
Due to my limited time, I was not able to check out some of the hotel's amenities which is the spa and the fitness area.
If you're planning to visit Houston and looking for a place to stay and you enjoy a traditional and historical vibe, you might enjoy Hotel Icon! It's literally a few steps away from a ton of night life activities and tourist attractions. If you're a local Houstonian and looking for a staycation that's in the center of pretty much everything, you will also enjoy Hotel Icon.
Visit www.hotelicon.com to check out their amenities, nearby attractions, and for reservations.
…………………………………………………………………………………………………………………………………………….
Disclaimer: I was given a complimentary stay at Hotel Icon to facilitate this experience write-up. The opinions expressed herein are mine and are not indicative of the opinions or positions of Hotel Icon.