Have you ladies heard of photo facial? IPL? Intense Pulse Light? Maybe. Honestly, I have never heard of it until a couple of weeks ago.
If you've seen my How to Lose Stubborn Body Fat Effectively Through Cryolipolysis post, you know that I've recently visited Laser Girl Skin Care and Med Spa here in Houston. They offer a wide range of services from simple laser hair removal to non-invasive fat "removal" through cryolipolysis to different skin care treatments such as IPL or Intense Pulse Light, more commonly known as photo facial.
If you're in the Houston area, I highly recommend Laser Girl Skin Care and Med Spa. The owner, Alyssa, is not only highly-skilled and knowledgeable as to what treatment is best for you, but she totally makes sure that you're comfortable prior to getting any treatment and during any procedure. I realized that not all med spas are created equal! There are some that are too commercialized and then there's Laser Girl Skin Care and Med Spa that makes you feel like you have a truly caring and highly skilled mom who's treating your skin to make you look more beautiful!
Now back to skin talk…When I was in high school, I was diagnosed with a skin condition called  photo contact allergy which basically means that I have allergy from prolonged exposure in the sun. While I never had to deal with acne, I dealt with this most of my high school and college life. I barely went to the beach and couldn't stay out too long because I will have rashes on my face that will eventually turn into nasty white spots. Many are not even familiar that this type of allergy exists.
I do think though that this condition  got lessened when I got older. However, I noticed that I began to have freckles and sun spots and uneven skin tone. It's nothing that foundation can't cover but I'm normally a no-make-up type of girl on a daily basis so I prefer to have flawless skin.
Thanks to skin technology these days such as IPL that can address skin issues that a lot of people face today. What's almost impossible to remove before and what usually takes a long time to eradicate is now possible with IPL.
What is IPL?
IPL stands for Intense Pulse Light. While it may easily be mistaken as a laser treatment, it's actually not. It's  pulses of light that penetrates your skin deeply to constrict collagen and blood vessels.
What is IPL good for?
IPL is normally used to treat uneven skin tone, remove sun spots and age spots, and reduce fine lines. If you also suffered from acne, IPL is effective in reducing or totally eradicating acne scar over time. It has also scientifically proven to kill bacteria effectively and prevent reoccurrence of acne by at least 50%. So yay! If acne or acne scars are your main concern, it might be worth it to try IPL.
It is also great in treating redness from conditions such as rosacea.  I don't have rosacea but for some reason, Ialso suffer redness around my nose.
What to expect on your first treatment.
I get you folks. It's quite scary when you want to get a procedure and you're unsure how it's done, how it's going to affect you, if it hurts, etc. I'm sure these type of things pop up in your mind. I created the video above to show you how the actual procedure is done.
But let me put it step by step:
Your specialist (in my case it's Alyssa of Laser Girl) is going to clean your face with cloths.
Then you will be treated with some numbing cream on your face and let it sit for about 15-20 mins.
Once you feel numbness, your specialist will put a gel-like substance (conductor of the light) on your face and proceed with the treatment.
Does it hurt?
Personally, I didn't think it hurt. Especially after the numbing cream took effect. Yes you feel some sting but not too much. I'm not quite sure if IPL treatment on acne scars will feel any different. Now I must say that this will probably depend on the person's pain tolerance level. I was told that some people find that it stings a lot.
Evaluate your tolerance level with your specialist by having a trial "touch" of the pulse light on your first session. With Alyssa of Laser Girl Skin Care and Med Spa, she will check before, during, and even after the session. She even personally called me the day after to check on me.
How many treatments do I need?
This will depend on what you need to address on your skin and how severe it is so it's better to consult your specialist. I have gotten one treatment so far and I can't wait to show you guys the result! Let me just say that after one treatment, I've seen some of my spots lighten up!
How much does the treatment cost?
I'm assuming that it varies per med spa. Some are obviously more expensive than others.
If you're in the Houston area, I can't recommend Laser Girl Skin Care and Med Spa enough. Give them a call and talk to them about your skin care needs. What I love about them is that they truly care and will recommend the best possible treatment for your case. They're not just there to get your money and run with it. They are highly skilled and knowledgeable and will give you the most professional service.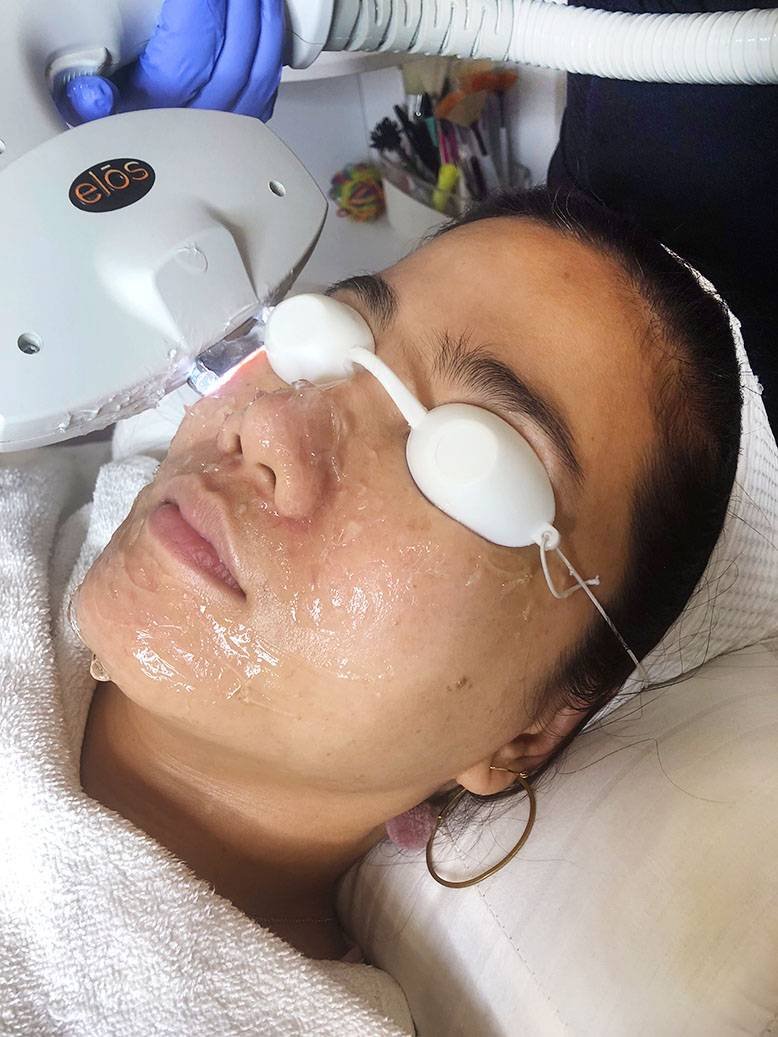 …………………………………………………………………………………………………………………………………………….
Disclaimer: This post is in partnership with Laser Girl Skin Care and Med Spa. Services performed were rendered in exchange for a blog write-up of the experience.  The opinions expressed herein are mine and are not indicative of the opinions or positions of Laser Girl Skin Care and Med Spa.. Thank you for supporting LynneGabriel.com sponsors. They make my blog possible!