If you're following me on Instagram (heyitslynneg), you've probably seen my post about a luxury aircraft that flies directly from Houston to Dubai. This was a few months ago so yes,  this is a long overdue post, but the story is not old enough and it's still so worth it to share! Some of you probably thought (as did some of my friends) that I actually flew to Dubai, but this was not the case.
Emirates 380 officially launched and inaugurated the luxury aircraft at a media event last December 3, 2014 at the George Bush International Airport. I was fortunate enough to be invited, along with a couple other bloggers and several media people, to witness the canon salute of the plane (it was pretty cool to be in the tarmac, especially during this time of super tight airport security!) and have a static tour of the actual plane.
Follow along with me as I tell you the story with photos.
Some government and airport officials were in attendance at the event.
The aircraft basically carries 491 passengers: 14 first class private suites, 76 business class lie-flat beds and 401 economy class seats. It flies directly from Dubai to Houston and back and the travel time is nearly 16 hours. It's a double-decker jet with the economy seats and business class on the lower level and the first class on the upper deck.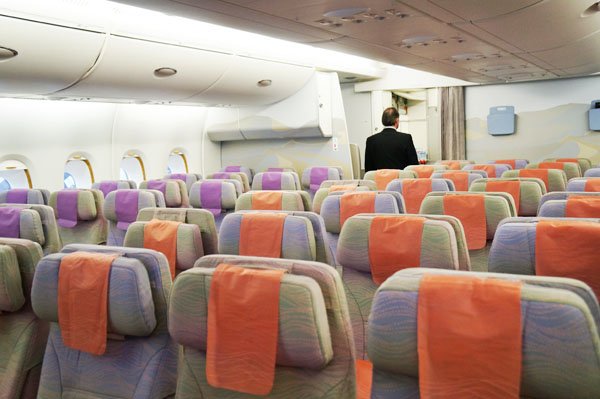 Unlike United Airlines, which I heard removed their on-flight television and you can only access if you have an iPad or a tablet, the economy travelers of Emirates 380 still have their individual televisions as well as large-screens with access to over 1,800 channels. Whoa!
I was told that any gold trimmings you will find in this plane is a real gold, manufactured by a company in Arizona.
This is the Business Class area. Each cubicle has a lie-flat bed and a monitor.
I had to try that bed somehow!
The food being served at the Business Class sure looked good.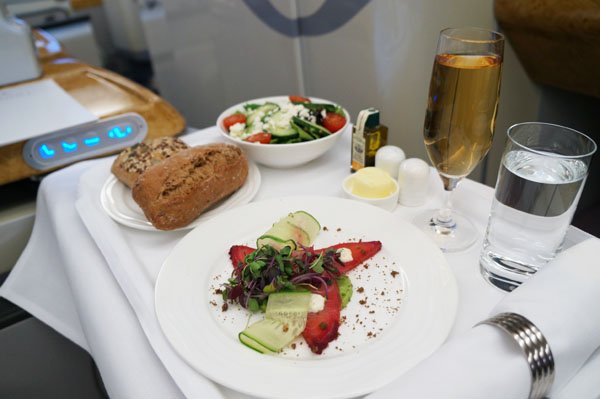 For $18,000 airfare, First Class passengers can enjoy a private suite, shower spa, cocktails, nice bed, large screen monitor, vanity, chocolates  and a stock of self-served refreshments.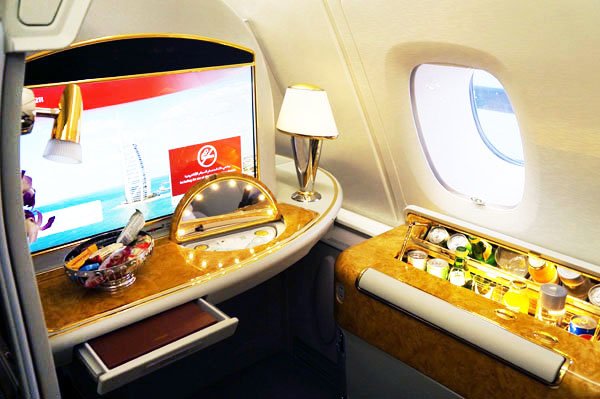 The shower system allows first-class passengers up to five minutes of water use, controlled with the touch of a button.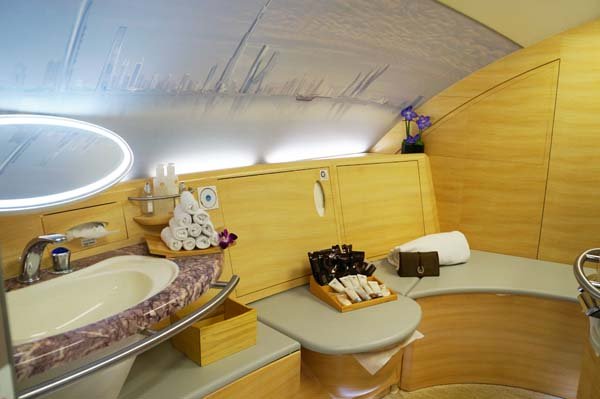 It was really amazing to be able to tour this luxury aircraft! Someday soon, I will be flying to Dubai first class via Emirates 380. *Wink*
SaveSave