In just about 6 days, sick on March 20, which is also my dear mother and my cousin's birthday, spring is officially here. Fur coats and boots out and sun dresses and sandals are in! At least that's the case for us Houstonians. We've already been hitting mid-70s during the day for the past couple of weeks, although it rained a lot the previous week. Regardless, I'm not complaining because, ironically, for someone allergic to sun like me (I have what they call photocontact allergy which basically causes me rashes when I get prolonged exposure to sunlight.), I still prefer hot over cold. It's just easier to be more fashionable when you don't have to put layers and layers of clothes to get you warm.
For you fashionistas out there, I'm sure that a couple of months ago, you've already noticed that asymmetrical and/or fish-tail dresses came in trend. Maxi dresses have been in for awhile but I love that the designers have put a twist to it.
AX Paris USA carries the cutest asymmetrical maxi dresses and the one I'm wearing on this post is one of them which you can get directly here. Most maxi dresses are either plain or with tiny floral prints but I like this one because of its bold floral print. I only wore 3 simple bracelets and a pair of green earrings with this since the dress already looks great by itself.
I also matched it with my magenta Charming Charlie handbag and my green pair of Breckelle's open toe stillettos.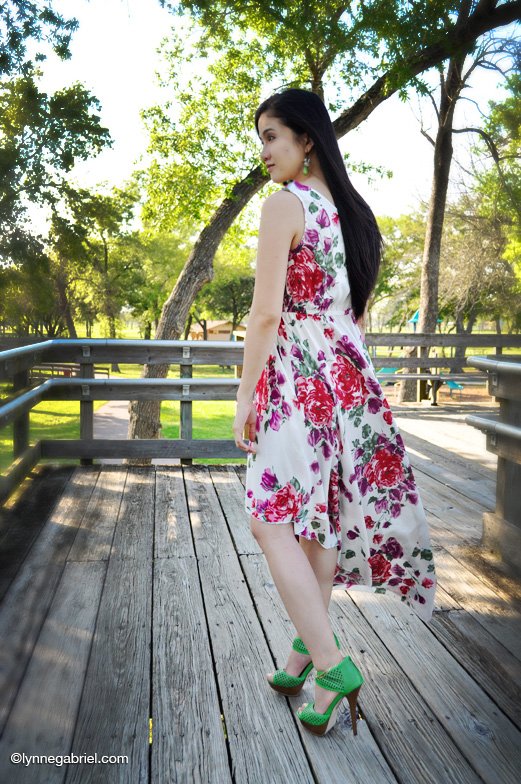 Here are my other asymmetrical dress favorites from AX Paris USA…
Sheer Drop Back Lime Maxi Dress – $39.50
Polka Dot Belted Drop Back Maxi – $39.50