Sorry to disappoint you ladies and gents that you're not seeing me in a Halloween costume today! (Then again, I never really do a Halloween outfit post.)
If you're following me on Instagram and Twitter, you know that my family and I went away for a weekend staycation at La Torretta Lake Resort and Spa. It is located an hour and a half from where I live. I haven't gone to any vacation this year so I thought a staycation is very much needed. I wasn't aware that there is such a beautiful resort that is only an hour north of Houston so I was pretty excited to have discovered La Torretta Lake Resort and Spa. It's located in such a beautiful spot overlooking Lake Conroe.
The resort is also close to The Woodlands, which is also another beautiful city that is about 45 minutes north of Houston. It is about 20 or 30 minutes away from La Torretta. While you're staying at the resort, this is a nice city to check out.
A Welcome Surprise
The resort has a 4:00 PM check-in. We got there around 4:30, thankfully, we didn't encounter much traffic but we've had to make a couple of stops. When we pulled in to the valet, the valet attendant was really nice; when I checked in the front desk, the staff were also very friendly.
An hour after checking in our rooms, we had a nice snack surprise (cookies, crackers, cheese, fruits, and milk) delivered to our room, which were delicious by the way! Now, I must say that I am not sure if this is true for every guest, thought I'd put in that little disclaimer there. But my tummy was pretty happy.
I have read some reviews on Trip Advisor about the resort staff being unfriendly but we never really had an encounter with one throughout our whole stay there. Everyone that we have had an encounter with was nice and friendly.
Spacious Rooms
Although I have seen some of the photos of their rooms on their website, I was curious and excited at the same time to see it in person. They had mentioned on the website that each suite has an extra living/parlor space but even then, I didn't know what to expect. I'm so glad that I was not disappointed! We had the king suite overlooking the lake and another king suite overlooking the waterpark and also another part of the lake. Both are very spacious and even if you have double beds, the room is big enough for 4 adults or 2 adults and kids. Our room also has a door to the adjacent room so if you're a big family and you need a of  couple of rooms or so, this is a good information to know so you can request them.
The living area also has a desk if you need to get some quick work done and a small kitchen/bar with coffee maker and a small refrigerator. I absolutely enjoyed the interior design of the rooms! The contemporary feel to it is refreshing. I must also mention that the bathroom in the Lakeview King Suite is huge!
My family and I really enjoyed the rooms. Our only concern was to always keep the patio doors locked so my 3.5 year old niece wouldn't go out because the rails aren't close enough to each other and a small kid can easily slip between them. If you don't have small kids, then it wouldn't be such a concern. You will thoroughly enjoy the room!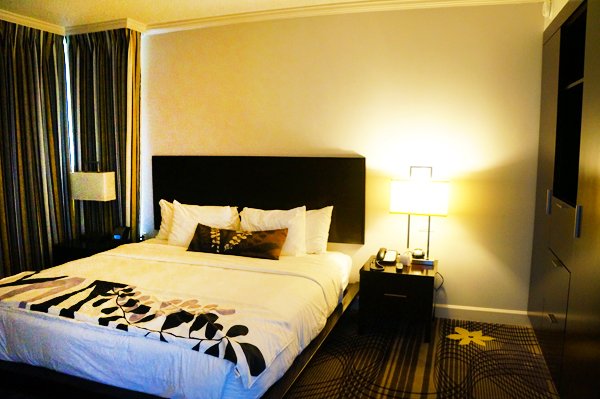 Scenic Views
I think one thing that you will really enjoy in this resort is the scenic views. The sun in its rising and setting states were pretty majestic in this resort. I know that we have the most beautiful sunsets here in Houston but the way I saw them in Lake Conroe from my La Torretta room was nothing compared to what I have seen before. Even if you're not the most celestial-loving person like I am, you will be in awe of the views!
The view of the lake from our room.
This photo doesn't do justice the actual sunset.
This was actually pre-sunrise. Click here to see my instagram post of the actual sunrise.
Aqua Park Recreation
There are so many things to do in a resort as big as La Torretta. They have golf, spa, fitness center, aqua park, and not to mention that the resort is surrounded with lots of marinas where you can rent boats and jet skis, which unfortunately, we didn't get to do.
I think we were pretty content and happy at the Aqua Park that we even forgot to check out the spa. I mean who goes on vacation and not do the spa? ME, apparently. And, at the time of our stay, they had a 50% OFF promo on Sunday. So boo for me.
The Aqua Park has 2 kiddie pools, a lazy river, and 3 adult pools – one of which has the adult slides and one of them is an infinity pool. They also have a nice jacuzzi next to the inifity pool.
The view of the Aqua Park from one of our Lakeview King suites.

This is the water splash and one of the kiddie pools which my little niece thoroughly enjoyed, even
though she runs away each time the bucket is about to spill the water. Too funny!
My 3.5 year old niece thinks she's a swimmer!
This is one of the adult pools with the slides. Yup, the adults get to be a kid in the slides too!
The view of the infinity pool and the other adult pool from the patio of the Yoi Sushi Bar/Sonata Piano Bar.
Dining Options
Those of you who are foodie will be thrilled to know that there are about 8 dining places inside the resort, plus an in-room dining option. It's also a wonderful thing because you don't have to go out of the resort just to find a place to eat. If you're going with your friends, there are few places where you can just hang and have a good time!
Due to a limited time, we were unable to check out all the dining places and some of them are only open during certain hours. Two of the dining places we have checked out though were the Yoi Sushi Bar (hooray if you love sushi!) and it opens to the Sonata Piano Bar which is a really cozy place to just chill and have some drinks. The place was even more packed on Saturday. I saw some kids with their parents on Saturday chilling so it's good to know that kids can hang there as well.
From there, we went to check out the Lakeside Restaurant and Bar which is a few feet from the hotel building. I was greeted with this beautiful giant wine cellar which seems to be dividing the place into a bar and dining – the bar being what's shown in this photo and dining on the other side of the cellar. The place has a great menu selection!
Overall, with so many recreational and dining options, you will never have a boring time at the resort! Whether you're going with your family or friends, there's a place and activity for everyone. For more information and reservation, be sure to check out La Torretta Lake Resort and Spa's website at www.latorrettalakeresort.com
…………………………………………………………………………………………………………………………………………….
Disclaimer: La Torretta Lake Resort and Spa has rewarded me with a complimentary stay at the resort for the purpose of reviewing their property and amenties. The opinions expressed herein are mine and are not indicative of the opinions or positions of La Torretta Lake Resort and Spa.  Thank you for supporting LynneGabriel.com sponsors. They make my blog possible.