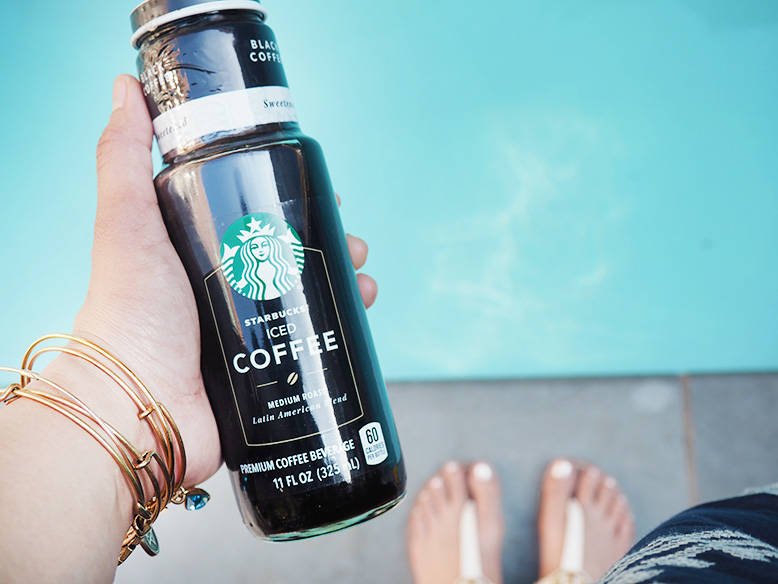 When you think of poolside parties or just spending the weekend by the pool, the last thing you'd probably think of bringing with you is coffee or coffee-based drinks, right? You're probably thinking soft drinks, margaritas, daquiri, or sangria. But it doesn't hurt to get out of the box once in a while and add them to your list of drinks at the party. And don't get me wrong, it's not the hot coffee that I'm talking about.
Here are some of my suggested products from Starbucks that will be perfect hydrating companion while spending time by the pool…
1. Starbucks Iced Coffee in Bottles

You've probably seen this in your local grocery stores. Coffee doesn't always have to be hot, especially during summer! After all, you're spending time by the pool to cool down. I've served this Starbucks Iced Coffee to my friend and fiancé the last time we had a gret together and they loved it. A friend of mine swears by it actually. It was her first time to try this drink and she absolutely loved it. My fiancé described it as "refreshing" and I couldn't help but agree!
They come in medium roast and has four different flavors: Coffee with Milk in Vanilla, Black Coffee Unsweetened, Coffee with Milk Sweetened, and Black Coffee Sweetened.
I opted to serve these bottled Starbucks® Iced Coffee with delicious cupcakes and it was the perfect match!
2. TAZO Chai Classic Tea

If you have tea-lover friends like I do, try serving TAZO Chai Tea in Classic flavor. It's a combination of black tea, cinnamon, cardamom, black pepper and spices. The tea you serve doesn't have to be boring. And again, this doesn't have to be served hot. You can put it in a glass bottle like I did, refrigerate and serve cold or just add ice!
If you love tea and love spices, this sure is a great combination and you'll love it!
3. Starbucks Pike Place

I don't know about you guys but I can always use a good coffee no matter the time and place. Starbucks Pike Place is a a favorite of many! It has a 4.5 rating from consumers. You can serve it with cupcakes or any of your friends' favorite sweets for dessert after a BBQ meal by the pool.
…………………………………………………………………………………………………………………………………………….
Disclaimer: This post is sponsored by Starbucks. The opinions expressed herein are mine and are not indicative of the opinions or positions of Starbucks. Thank you for supporting LynneGabriel.com sponsors. They make my blog possible!