Velvet Heart Ikat Dress | Charming Charlie Fedora | Kendra Scott Earrings | Kendra Scott Necklace | J. Crew Bracelet | CAT Footwear Booties | SVMIE Bag (Really old but love this, this, and this) (All c/o)
. . . . . . . . . . . . . . . . . . . . . . . . . . . . . . . . . . . . . . . . . . . . . . . . . . . . . . . . . . . . . . . . . . . . . . . . . .
It's Friday y'all! We made it! I'm sure that many of you have been waiting for the weekend to come and it seemed like foreverto get here for some reason. At least that's how I felt. 
And did someone say that it's the end of September already?! I am seriously amazed at how time goes by. So many things to do with so little time. I'm sort of panicking! Eeeek. The holidays, my cousin's wedding in Florida, and my own wedding are just around the corner and I feel that there's a lot of things to do. The holidays and special occasions can sure add a lot of stress and pressure but I'm so looking forward to them.
Meanwhile, how about them ikat prints? This dress is from the summer collection of Velvet Heart I believe and it's become another favorite of mine. It's not flattering by all means but it's cute and comfortable, and quite honestly, that's what I'm all about these days. I think that every woman should have pieces in her closet that are easy to get into! These type of items are definitely time savers. Just slip it on, wear booties, put a top knot on and voila! For those married, you will definitely make your hubby happy with easy-to-style pull-over dresses. Ha! Less waiting time for them while you're getting ready. Oh and the fact that it's a chambray dress is a major plus! 
And let's talk about booties! How do you like the pair I'm wearing here? They are from CAT Footwear and another favorite of mine. Are you guys familiar with the Caterpillar equipments used in construction? Well, who would've thought that the same company that makes them also makes shoes? So far out, right? But they do make heavy-duty boots that are sure to last forever! They started off with work boots but later evolved to more fashionable designs catering to both men and women. I own a few pair that I've had for a couple of years or so and those are some of my prized possesions, for real! The shoes are of high-quality and I promise you this…they are really comfortable!
Hope you like today's look! It's easy to replicate or draw inspiration from. I've shared other options below so check it out! 
 

Check Out Other Chambray Dresses Below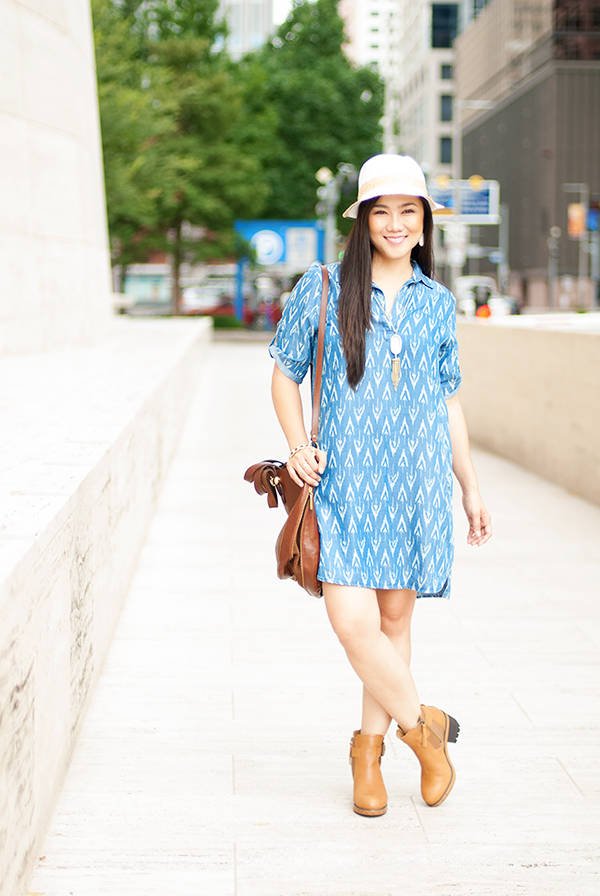 SaveSave
SaveSave
SaveSave
SaveSave
SaveSave
SaveSave
SaveSave
SaveSave
SaveSave
SaveSave