This shop has been compensated by Collective Bias, Inc. and its advertiser Walmart Family Mobile. All opinions are mine alone. #YourTaxCash #CollectiveBias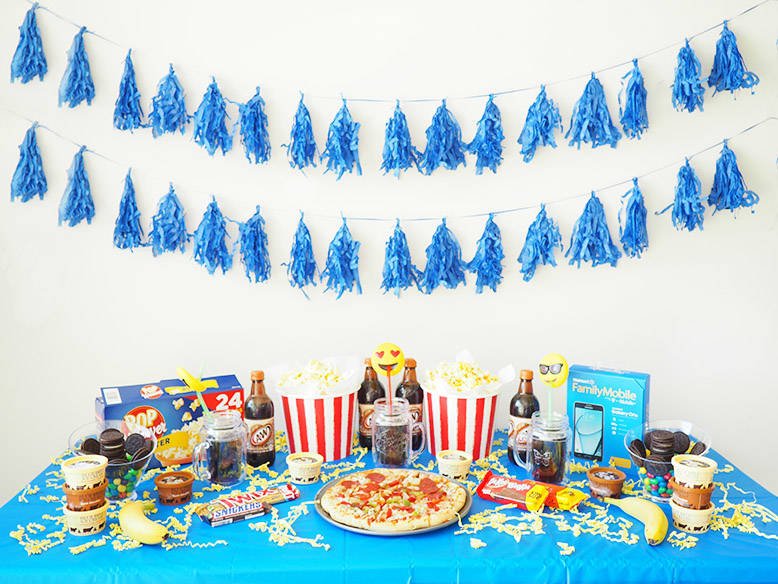 A few days ago, I shared with you guys 5 Tips On What To Do With Your Tax Refund. Tax season can be an exciting time for most people because it brings in some much-needed extra cash – whether it's to pay off some outstanding debts or provide a vacation or some leisure time with the family.
One of the things that I highly recommend is getting Walmart Family Mobile PLUS Plan with Unlimited* Talk, Text, & Data. I know in this day and age, it's easy to rack up cellphone bills but with Walmart Family Mobile PLUS Plan, you can get unlimited* talk, text, and data which includes up to 10GB of 4G LTE then 2G plus a free VUDU movie credit every month ($7 value) per line for $49.88.
Whatever the case might be, a little movie night for your family doesn't hurt! Typically, my idea of a movie night is no-sweat! After all, you want to enjoy the time with your family and not get tired in rigid preparation and not enjoy the movie with your fam bam. You want your family to enjoy your presence as well.
With that being said, here are some tips in putting together a movie night.

1. Keep It Simple.

While sometimes we want to make a movie night such a mission, simple snacks that your family already loves will suffice. It's no brainer that Walmart is the best place to go for anything and everything you need for your household!
For a movie night, how about some popcorn, DiGiorno pizza (which is delicious by the way!) personal size Blue Bell Ice Cream, chocolate bars, A&W Root Beer, M&M's Peanuts, and Oreo cookies? These are all timeless party items that are sure to be enjoyed.
2. Make It Fun.

Make it fun by setting it up like a party on a table! A plastic table cover ($0.97), some shredded paper confetti ($4.78), tassel garland $3.97), mason jars ($4.96 each) and some emoji straws ($0.97 each) can make a table set-up look so much fun!
3. Have Fun!

Movie nights with the family is all about having fun. It's basic but often forgotten because we tend to get so busy on what to serve our family. Prepare for it but enjoy the process of putting it together and enjoy the actual time you spend with your family.
Finally, with VUDU, you can stream movies to a Smart TV, ROKU(R), Chromecast(R), VUDU Spark(TM), or other compatible devices. We just got a 65" Smart TV last year and can't wait to start streaming movies into that one!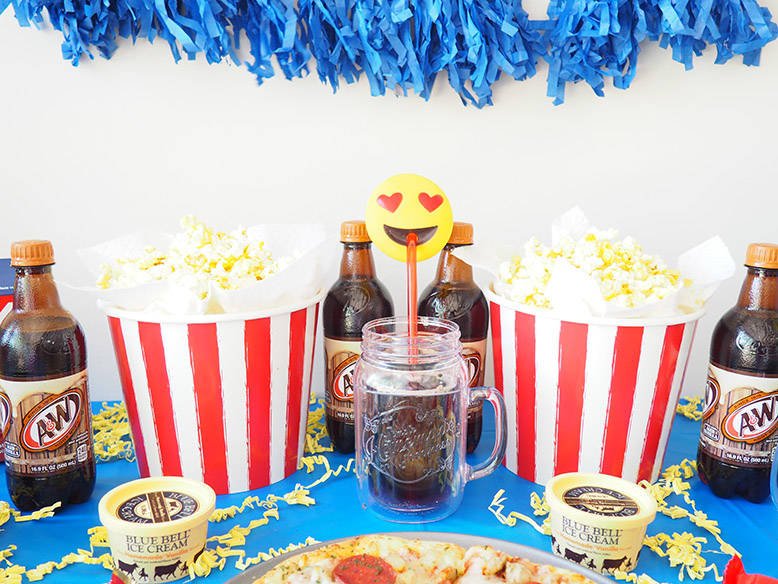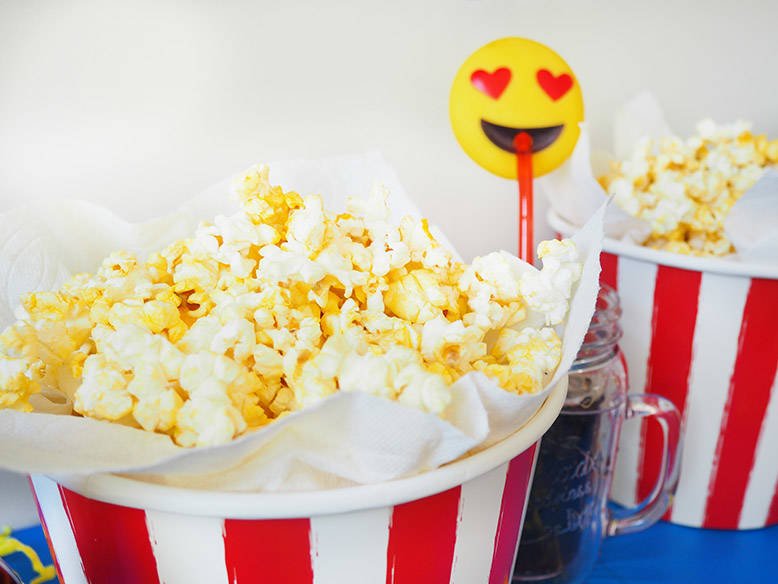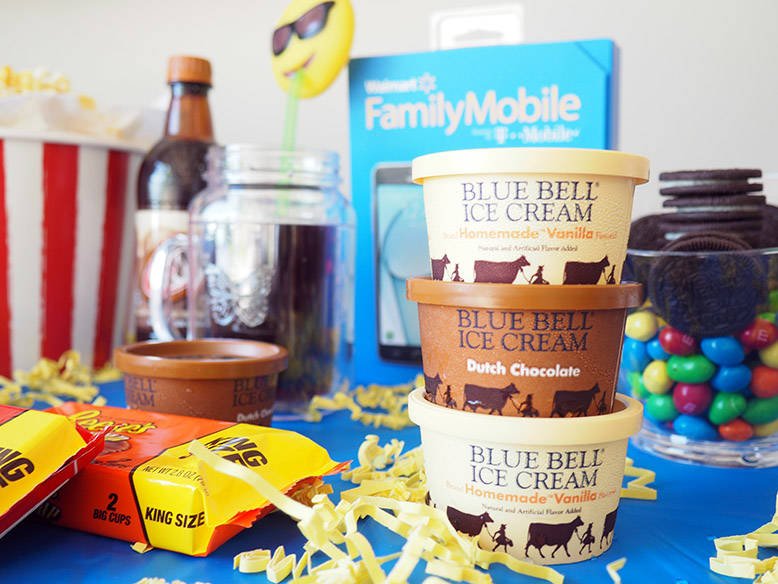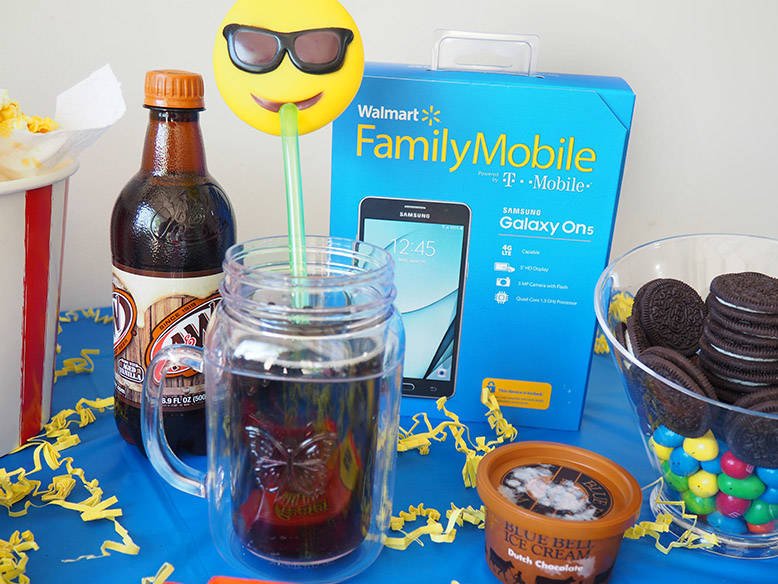 Most of all, don't forget to get Samsung Galaxy On5 and Walmart Family Mobile PLUS Plan with Unlimited* Talk, Text, & Data. Samsung Galaxy On5 is $119 and currently on Roll Back for $69. The SIM Kit is only $19.88 and for only $49.88 per month per line, you can enjoy Unlimited* Talk, Text, & Data which includes up to 10GB of 4G LTE then 2G and a free movie credit on VUDU every month ($7 value).
Go visit your local Walmart store and head to the mobile / electronics area to purchase.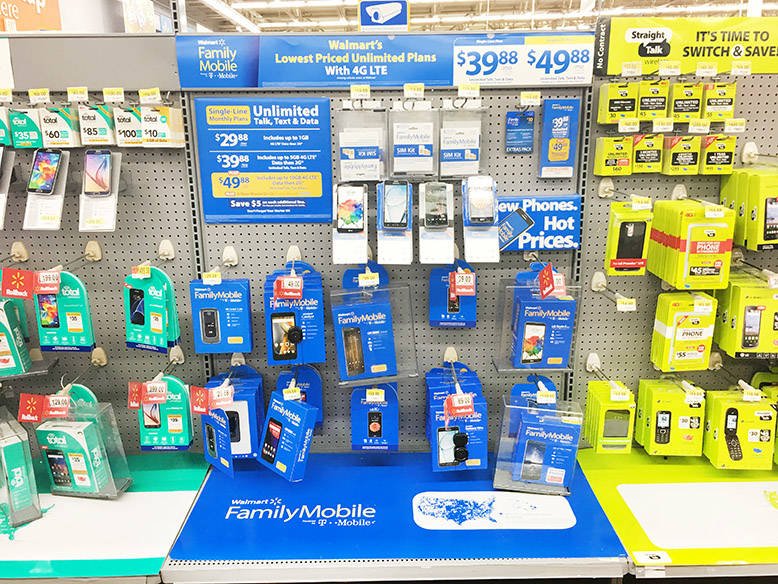 *Includes up to 10GB of 4G LTE then 2G
Disclaimer: All prices for phones and plans included in this post are accurate as of the date of posting; however, these prices are subject to change. Please refer to http://cbi.as/7e-jr or your local Walmart for current pricing.