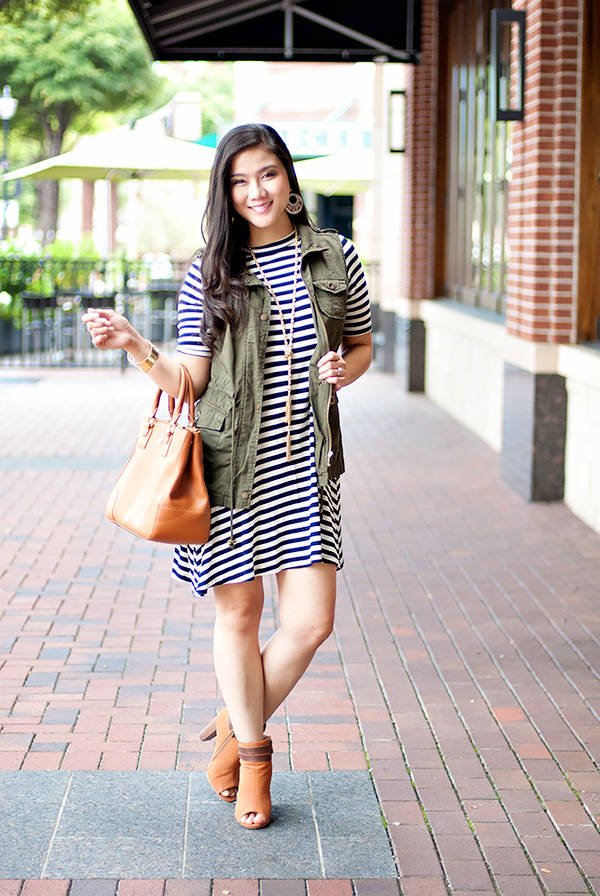 LE3NO Anorak Vest via Amazon.com | Stripes Shirt Dress (Sold out but see other options below)  | French Rope Tassel Necklace  via Amazon.com | Cuff Bangle (Sold out but similar here) | Tory Burch Handbag | Peep Toe Booties (Sold out but see other options below) (All c/o)
. . . . . . . . . . . . . . . . . . . . . . . . . . . . . . . . . . . . . . . . . . . . . . . . . . . . . . . . . . . . . . . . . . . . . . . . . .
 
August snuck up on me just like that. I guess that's what happens when you're too busy planning your own wedding huh? The other day I was at Hobby Lobby looking for some wedding stuff and was quite surprised to see Fall, Thanksgiving, and Christmas decorations already…in September. That being said, fashion retailers are also definitely already putting out fall items and in cities like Houston where we have longer hot days, transitioning to fall fashion can be a bit tricky. I've always thought that we tend to have a bit of a fashion crisis here during season transitions because some women will still be wearing sandals and flip flops while others be wearing their boots already, in a 90 degree weather. But hey, it's fall so I can't blame them.
5 Ways to Transition Your Summer Style for Fall

1. Switch to Fall Colors
One sign that you will notice when season in fashion is changing is the colors. From the light and whimsical feel of pastels in Spring to bright and fun colors of summer to a little more toned-down jewel tones in Fall and back to the neutral and pastel colors in Winter. One way you can transform your style is to pull out your burgundys, navy blues, hunter greens, and mustard yellow from last year and start incorporating them to your outfits.
2. Accentuate With Fall Pieces
On this post, I'm wearing a shirt dress that can be worn all year round, which I have. Obviously without the vest. You can transform this simple summer dress or any tunic for that matter for fall by simply adding an anorak vest. For colder days, switch it with a puff vest, wear leggings.
3. Accessorize With a Scarf and a Hat
Another very easy way to transform your summer style is to add a scarf. Now if you're in warmer city or state like Texas, you might just want to start with light scarf first. This is the easiest way to add a Fall touch to your outfit when you're transitioning from summer to fall. You can also add a fedora hat with your outfit, depending on where you're doing. Make sure that your colors are also fall colors, even if it's just a scarf. You can never go wrong with the basics though – black and neutrals. 
4. Switch Up Your Shoe Style from Sandals to Booties
In fall, the weather begins to be cooler but not totally cold. Another easy way or perhaps the easiest way to transform your summer pieces to fall is by wearing a pear of booties. 
5. Layer Up
Layering is not an uncommon thing to do during Fall. Get your tanks, shirts, and cardigans and layer them up. These are basic pieces that you already should have in your closet. You can wear them with a pair of distressed jeans and booties and voila! Your summer pieces are now transformed to a fall style.
It's that easy! 
Check Out Other Black and White Stripes Dress

Check Out Other Peep Toe Booties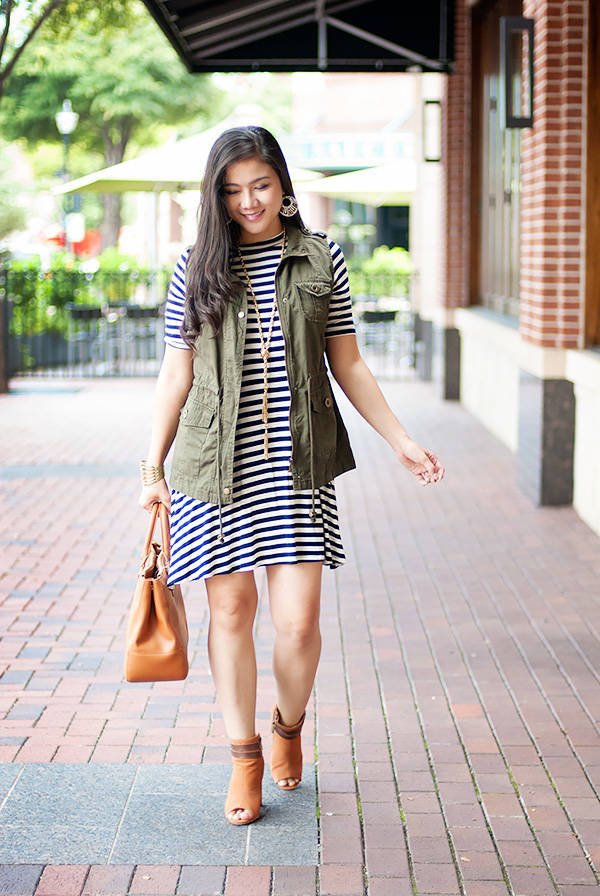 SaveSave
SaveSaveSaveSave
SaveSave
SaveSaveSaveSave
SaveSave
SaveSave
SaveSave
SaveSaveSaveSave
SaveSave
SaveSave
SaveSave
SaveSave
SaveSave
SaveSave
SaveSave
SaveSave
SaveSave
SaveSave
SaveSave