About a few weeks ago,  I, along with other few bloggers and food enthusiasts, have been invited to an authentic Greek cuisine experience at Byzantio. Byzantio has been around Houston for about 11 years now and is known for their "home-made" Greek food in a warm-friendly atmosphere. The intimate candle-lit private dinner was hosted by Dora and Ilias Giannakopoulos who are the owners. I am not a foodie or a food blogger at all but thought it'd be nice to try a different dish. It's a little bit out of my comfort zone to try unfamiliar cuisine but for the sake of experience, I did and so I can share it with you here as well.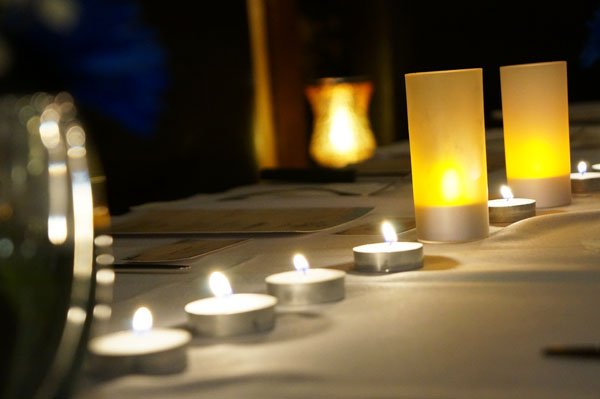 The place is actually the couple owner's previous home. Though the place is small, it's quite cozy and it'd be a perfect venue for a dinner date. They do have a patio which makes for a great spot to dine, have coffee, and hang as well during warmer evenings.

They do have a bar, as well, which seems to have a great selection of drinks. Unfortunately, I can't have anything other than white wine, mimosa, or champagne, or my world will turn upside down. Literally. For real.
That said, I started the night with a fine white wine. I don't remember asking the brand of it but it was good.

We were served with three delicious appetizers namely: Spanakopita (Spinach & feta cheese wrapped in flaky fillo dough), Bougiourdi (Greek Fondue) and Pita with Kafteri, Hummus, and Tzatziki. Although the Spanakopita and Bougiourdi were good, I think I particularly enjoyed the Pita with Hummus. Mainly because Hummus isn't a complete stranger to me.
And what's a Greek food without a Greek salad? That big chunk of white thing on top of it is cheese!
The main dish of the night was called Chicken, Lamb, & Pork Kalamaki with Baked Lemon Potatoes as well as Pastitsio (Greek Lasagna). The baked lemon potatoes were pretty amazing! I enjoyed it thoroughly. Unfortunately, I don't eat beef so I didn't taste the lasagna. And while I went out of my comfort zone to try a new dish, I was still not brave enough to try lamb meat so I stuck with the Chicken and the Pork Kalamaki which were both pretty good.
The night ended with a homemade Baklava for dessert, which may be an acquired taste for some. I have tried this before so it's not a complete stranger to me. However, I must admit, I didn't embrace it right away.
If you are ever in Houston and Greek food fancies you, check out Byzantio. Be sure to try their White Chocolate Mocha as well! It was delish.